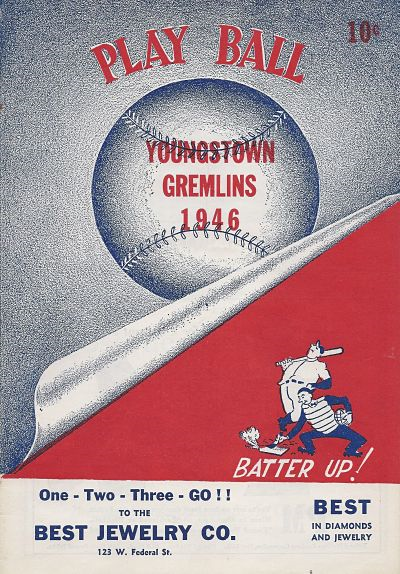 Middle Atlantic League (1946)
Born: 1946
Re-Branded: 1947 (Youngstown Colts)
Stadium: Idora Park
Team Colors:
Owners:
The Rust Belt city of Youngstown, Ohio was a fixture in the Class C Middle Atlantic League between 1939 and 1951.  The team identity changed every couple of years (Browns, Gremlins, Colts, A's) and there was no baseball in the Steel Valley at all from 1942 to 1945, as the Mid-Atlantic went dark during the meanest years of World War II.  The local nine were known as the Youngstown Gremlins (the best name of the bunch, IMO) for only one season, when the Mid-Atlantic League came back to life in the post-war summer of 1946.
The Gremlins played at Idora Park, site of Youngstown's historic amusement park.  The Jack Rabbit roller coaster loomed over right field.  The amusement park closed in 1984 following a devastating fire.
There's no clear record online of whether the Gremlins had a Major League affiliation in 1946.  Between the unusual name and the fact that only one player from the club ever advanced to the Major Leagues, I'd hazard a guess that the team was independent.  Ace pitcher Johnny Kucab (12-1, 1.86 ERA) was the brightest light at the not-quite-young age of 26.  He would later pitch three seasons in the Majors for the Philadelphia Athletics from 1950-1952.
Another compelling figure was the team's manager, Paul Birch.  Birch played some sporadic minor league baseball, but his better sport was basketball.  He starred at Duquesne University in nearby Pittsburgh and was playing for the Youngstown Bears in the National Basketball League (a forerunner to the modern NBA) in 1947 when he signed on to manage to Gremlins during the summer months.
Birch would later become Head Coach of the NBA's Fort Wayne Pistons from 1951 through 1954.  Birch would resign his Pistons job under pressure in the fall out from the Jack Molinas point shaving scandal in 1954 and never worked in the NBA again.  Birch passed away in 1982.
==Links==
"Youngstown Baseball Has a History Dating Back to 19th Century", Vince Guerrieri, DidTheTribeWinLastNight.com
Middle Atlantic League Programs
##