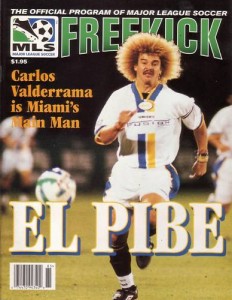 Major League Soccer (1998-2001)
Born: April 9, 1997 – MLS expansion franchise
Folded: January 8, 2002
Stadium: Lockhart Stadium
Team Colors:
Owner: Ken Horowitz
MLS Cup Championships: None
The Miami Fusion were Major League Soccer's early misfire in the South Florida market. Cellular One founder Ken Horowitz paid a $20 million expansion fee for the club in the spring of 1997. He paid an additional $5 million to renovate Fort Lauderdale's Lockhart Stadium into a 20,000-seat soccer-specific venue. The club began play in 1998 with Colombian National Team captain Carlos Valderrama as its top drawing card.
The Fusion stumbled through three losing campaigns. Attendance bottomed out at a league-worst 7,460 per game game in 2000 and the team struggled to attract any corporate sponsorship interest. MLS, which controls all players contracts at the league level, returned the unhappy Valderrama to his original MLS club, the Tampa Bay Mutiny, early in the 1999 season. The Fusion received nothing in return for their top player.
The Fusion's fortunes revived with the hiring of charismatic former Fort Lauderdale Strikers star Ray Hudson as manager midway through the 2000 season. Hudson and Fusion General Manager Doug Hamilton put a thrilling team on the field in 2001. Newly acquired midfielder Preki dished out assists to forwards Alex Pineda Chacon and Diego Serna, who finished 1-2 in MLS in scoring. Goalkeeper Nick Rimando and fullbacks Carlos Llamosa and Pablo Mastroeni anchored the stout defense. The Fusion earned Major League Soccer' Supporters Shield with a league best regular season record of 16-5-5. Hudson's squad was upset by the San Jose Earthquakes in the playoff semi-finals.
Though the Fusion's attendance rose nearly 4,000 fans during the 2001 campaign, the franchise still ranked at the bottom of MLS in team revenues. Team owner Horowitz grew exhausted with the team's losses. Major League Soccer contracted the Fusion, along with the similarly trouble Tampa Bay Mutiny club, on January 8th, 2002.
Miami Fusion Memorabilia
Miami Fusion Video
In Memoriam
Former Fusion General Manager Doug Hamilton passed away March 9, 2006. Hamilton was General Manager of the Los Angeles Galaxy at the time and on a flight with the team when he suffered a fatal heart attack. He was just 43.
Downloads
June 7, 1998 Miami Fusion vs. MetroStars Game Notes
Links
Major League Soccer Media Guides
###