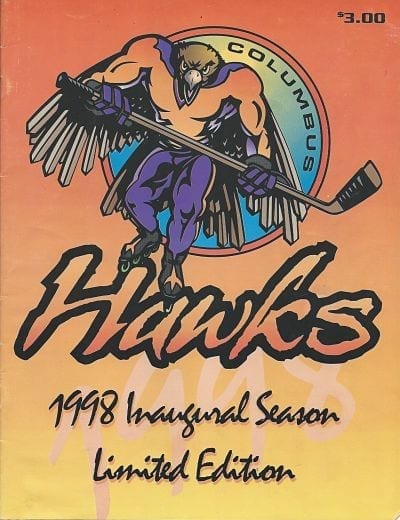 Major League Roller Hockey
Born: 1998
Folded: Postseason 1998
Arena: Battelle Hall
Team Colors:
Owner: Fred Drew,
This fly-by-night professional roller hockey outfit played for two months in downtown Columbus, Ohio during the summer of 1998.  The Hawks were one of several minor sports franchises that tried to make a go of it at Battelle Hall in the Columbus Convention Center during the mid-1990's, along with the Columbus Invaders indoor soccer team and the Columbus Quest women's basketball team. Only the Quest attracted even a modest core of regular fans while the men's teams played to virtually empty stands. None of these clubs made it through more than two seasons.
The Hawks were owned by a Mansfield, Ohio businessman named Fred Drew who worked in the trucking industry. The team's coach and GM position was a summer job for Derek Clancey, a minor league hockey journeyman who had played four winters for the city's popular East Coast Hockey League (ECHL) team, the Columbus Chill.  Most of the Hawks players were moonlighting ECHL ice hockey players, including a number of other Chill veterans.
Crowds numbered in the low hundreds and the Hawks faded quietly from view at the end of the summer along with the rest of Major League Roller Hockey. The league was relaunched as a semi-pro enterprise in the early 2000's but the Hawks never returned.
##