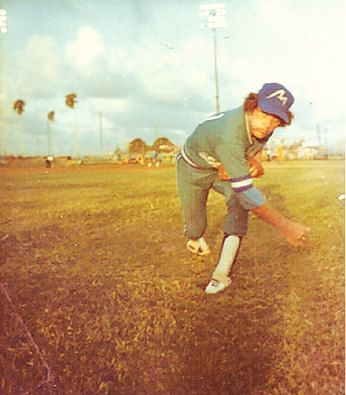 Gulf States League (1976)
Lone Star League (1977)
Born: 1976 – Gulf States League founding franchise.
Died: 1977 – The Lone Star League ceases operations.
Stadium: Cabaniss Stadium
Team Colors:
Owner: Terry Ferrell
Thanks to former Corpus Christi Seagulls pitcher Raymond Harrison for posting this great Polaroid shot from 1976 to the Fun While It Lasted Facebook Page.  (He also provided the "Win A Date With A Seagull!" news clipping below).   Without Raymond's search through the attic, we might never have found an image for his obscure pro club.
The Seagulls were the best team in one of the wackiest leagues of the 1970's.  The ball club was founded in the year of the bicentennial as part of the six-team Gulf States League, which had teams in Texas and Louisiana.  The Gulf States League was an oddball loop within "organized" minor league baseball.  Although part of the National Association of Professional Baseball Clubs, which governed the farm teams for all of Major League Baseball, all six teams in the Gulf States League played as independents.  They didn't have Major League Baseball parent clubs and therefore they had to forage for whatever left over talent they could find.
The Seagulls coach was Leo Mazzone, who would later go on to great acclaim as a pitching coach with the great Atlanta Braves teams of the 1990's and with the Baltimore Orioles in the 2000's.  Under Mazzone, the Seagulls won the Gulf States League championship in 1976, as much by simply surviving until the end of the season as anything else.  The Baton Rouge club folded midway through the season.  The Seguin Toros club attracted national media attention when its spendthrift owner refused to shell out for hotel rooms during a series in Corpus Christi.  He demanded his players make a 250-mile round trip drive each night instead.  The players revolted by camping out on a public beach between games instead.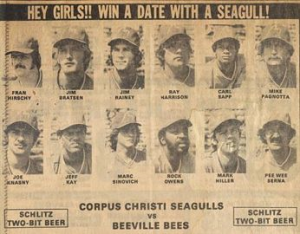 The Gulf States League re-organized in 1977 as the Lone Star League with all of the clubs now based in Texas.  Once again it was a six-team league, classified as single-A ball by the National Association, but still without Major League parent clubs.  Mazzone returned and the Seagulls were the best team in the league again.  But shabby finances crippled the league for a second straight summer and the playoffs were cancelled.   The Lone Star League and the Seagulls  faded quietly into history thereafter.
The Seagulls had a combined record of 103-54 during their two seasons of existence.
==Links==
##