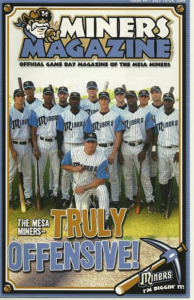 Golden Baseball League (2005)
Born: 2005 – Golden Baseball League founding franchise
Folded: November 22, 2005
Stadium: Hohokam Park
Major League Affiliation: Independent
Owner: Golden Baseball League
Golden League Championships: None
The Mesa Miners were an independent professional baseball team that played for just one season in the now-defunct Golden Baseball League (2005-2010).
The Miners played at 10,500-seat Hohokam Park, spring training home of the Chicago Cubs. The team had the second best record (51-39) in the eight-team Golden League in 2005. They advanced to the league championship series and lost to the San Diego Surf Dawgs.
Mesa's most experienced player was 32-year old catcher/first baseman Marcus Jensen. Jensen played 145 Major League games with various clubs between 1996 and 2001.
The Golden Baseball League operated in a single-entity structure during its debut season in 2005. The league owned all franchises directly. On November 22, 2005 the Golden League contracted both of its central Arizona franchises, the Miners and the Surprise Fightin' Falcons, after a single season of play. David Kaval, the Golden League's co-founder and CEO, cited the Miners' unfavorable concessions contract at Hohokam Park as a key factor in the team's demise. Mesa also finished last in the Golden League in attendance in 2005 with just 915 fans per game.
Mesa Miners Memorabilia
Links
Golden Baseball League Programs
##