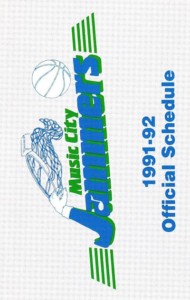 Global Basketball Association (1991-1992)
Born: 1991 – GBA founding franchise
Moved: 1992 (Jackson Jammers)
Arena: Nashville Municipal Auditorium
Team Colors:
Owner: Larry Schmittou, et al.
GBA Champions: 1992
The Music City Jammers were a Nashville-based minor league basketball outfit that lasted for just one season in the early 1990's. The club was part of the Global Basketball Association, an all-but-forgotten loop with teams in the Southeast and Midwest. The managing partner of the Jammers was Larry Schmittou, long-time owner of Nashville's popular Nashville Sounds minor league baseball club.
Schmittou wasn't able to translate his magic touch from the baseball diamond to Nashville's leaky Municipal Auditorium. A January 1992 profile of the Jammers in The Tennessean reported that the Jammers averaged fewer than 400 paid tickets per game through the team's first 11 home dates.
On the court, the Jammers were mediocre. The team finished the regular season in 4th place in their division and barely earned the GBA's eighth and final playoff spot. In fact, Music City's record of 24-40 was second worst in the league. But the Jammers got hot at the right time. They eliminated the Huntsville Lasers in the first round and dispatched the Mid-Michigan Great Lakers in the semis. To cap it off, the Jammers knocked off the Greensboro City Gaters in the finals to claim the Global Basketball Association's first (and only) championship.
Low attendance in Nashville forced Larry Schmittou to move the Jammers to Jackson, Tennessee.  The re-named Jackson Jammers returned to defend their title in November of 1992. But the Global Basketball Association came apart one month into its second season and folded on December 19, 1992.
Links
Global Basketball Association Pocket Schedules
##