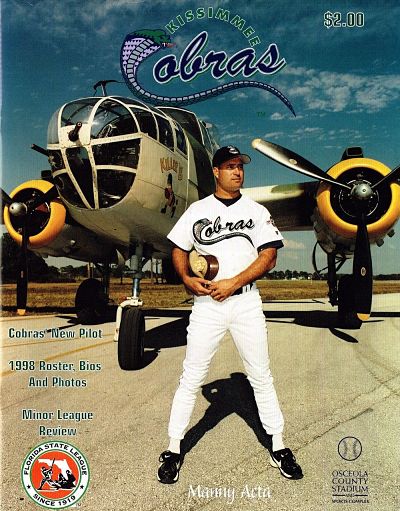 Florida State League (1995-2000)
Born: October 4, 1994 – Re-branded from Osceola Astros
Folded: September 2000
Stadium: Osceola County Stadium
Major League Affiliation: Houston Astros
Team Colors:
Owner: Houston Astros (Drayton McLane ,Jr.)
Florida State League Champions: 1999
The Kissimmee Cobras were a Class A Florida State League farm club of Houston Astros from 1995 through 2000.  The partnership between the Astros and Osceola County dated back to 1984 with the formation of the Osceola Astros. The team adopted the "Cobras" identity during a re-branding effort in late 1994. Osceola County Stadium was also Houston's spring training home during this era.
Key players during the Cobras era in Kissimmee included: Lance Berkman (Cobras '97), Freddy Garcia (Cobras '97), Brad Lidge (Cobras '99-'00) and Roy Oswalt (Cobras '00).
The Cobras defeated the Dunedin Blue Jays to win their lone Florida State League crown in 1999.
Cobras attendance consistently placed at or near the bottom of the Florida State League. On July 20, 2000 the National Association of Professional Baseball Leagues announced a plan to re-balance the Class A level by contracting two teams from the Florida State League and adding two to the South Atlantic League. The Cobras were marked for elimination along with the St. Petersburg Devil Rays. The Cobras ceased operations at the conclusion of the 2000 season.
The Florida State League returned to Kissimmee and Osceola County Stadium in 2017 with the arrival of the Florida Fire Frogs, a farm club of the Atlanta Braves.
Kissimmee Cobras Memorabilia
Links
##