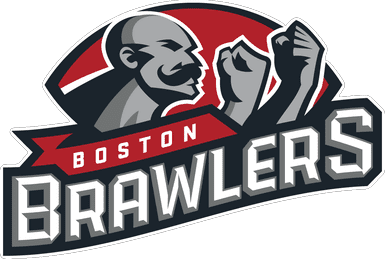 Fall Experimental Football League (2014)
Born: 2014 – FXFL founding franchise
Moved: 2015 (Mahoning Valley Brawlers)
Stadium: Harvard Stadium
Team Colors:
Owner: FXFL
The Boston Brawlers were an misbegotten minor league football effort that managed two stage just two games at Harvard Stadium in the fall of 2014 before evaporating.  The Brawlers were part of a start-up called the Fall Experimental Football League which suddenly popped up in three cities (Boston, Brooklyn, Omaha) in the summer of 2014 with virtually no advance publicity, sales effort or investors .  (A fourth team, the "Florida" Blacktips had no home base and rounded out schedule as a travel-only squad).
The Brawlers' biggest name was quarterback Tahj Boyd.  Boyd, the 2012 ACC Player-of-the-Year at Clemson, was the 6th round draft pick of the New York Jets earlier in 2014. After getting cut in training camp, Boyd latched on with the Brawlers for a couple of games.
The Brawlers played in the league's debut game on October 8th, 2014, losing 41-18 to the Omaha Mammoths at TD Ameritrade Park in Nebraska.  Meanwhile, back in Boston, the Brawlers neglected to do any local promotion, short of an agreement to air a few game broadcasts on NESN, the Red Sox-owned cable network. Boston Globe sportswriter Stan Grossfeld, who covered the team's second and final appearance at a near-empty Harvard Stadium in November 2014, noted that the team's pugilistic logo "looks more like V.I. Lenin than John L. Sullivan".
On November 7, 2014 30 days after the FXFL debuted, league founder Brian Woods announced the cancellation of the league's final regular season contest and championship game. After the season, many FXFL players complained on social media of unpaid salaries.
Surprisingly, the FXFL returned to play in 2015 with a new business model. Brooklyn returned,  but gone were the major/mid-major markets of Boston and Omaha.  In their place, the FXFL formed partnerships with minor league baseball operators to handle promotion and operations.  The Brawlers were re-purposed as the Mahoning Valley Brawlers, to be operated by the Mahoning Valley Scrappers baseball team in Niles, Ohio.
On September 28, 2015 the FXFL folded the Mahoning Valley Brawlers franchise one week before the planned kickoff of the 2015 season.
==YouTube==
The Boston Brawlers host the Brooklyn Bolts at Harvard Stadium. November 2014.
The Brawlers planned move to the Mahoning Valley in Ohio, plugged in a July 2015 WKBN news package.
##