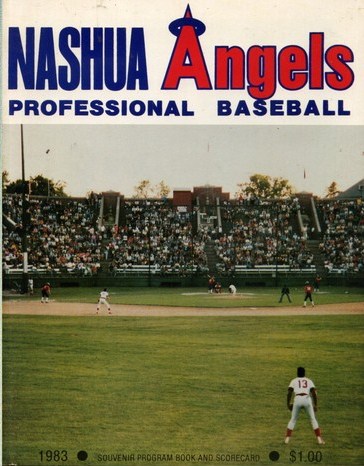 Eastern League (1983)
Born: December 1982 – The Holyoke Millers relocate to Nashua, NH.
Re-Branded: Postseason 1983 (Nashua Pirates)
Stadium: Holman Stadium (6,000)
Team Colors:
Owners: Jerome Mileur, Ben Surner & George Como
The Nashua Angels were a farm club of the California Angels that competed for just one season in the Class AA Eastern League during the summer of 1983.  The franchise moved from Holyoke, Massachusetts one week before Christmas in 1982.
The team finished in sixth place in the eight-team Eastern League with a 60-80 record in 1983.  Prominent future Major Leaguers on the club included pitcher Kirk McCaskill and outfielder Devon White.
Following the 1983 season, the Angels departed and were replaced by the Pittsburgh Pirates as Nashua's Major League parent club.  The Nashua Pirates played three more seasons in the Eastern League (1984-1986) before moving the Harrisburg, Pennsylvania in late 1986.
==Links==
###