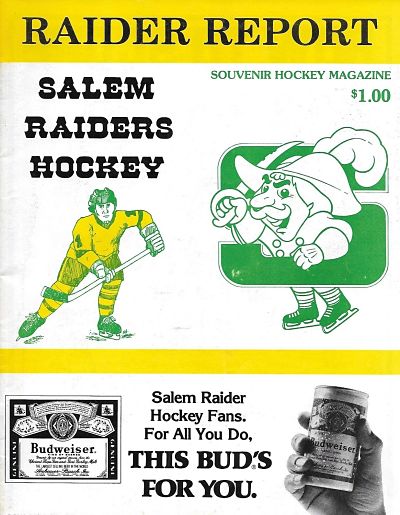 Eastern Hockey League (1980-1981)
Atlantic Coast Hockey League (1981-1982)
Born: 1981 – The Utica Mohawks relocate to Salem, VA
Re-Branded: 1982 (Virginia Raiders)
Arena: Salem-Roanoke County Civic Center
Team Colors:
Owners:
EHL Championships:
ACHL Championships: None
The Salem Raiders were a minor league hockey club that operated in the Shenandoah Valley region of Virginia in the early 1980's. The Raiders played, at first, in the Eastern Hockey League and the roster consisted mostly of minor-league lifers. There were a few exceptions. Raiders Pierre Lagace and Bruce Greig both saw time in the World Hockey Association in the late 1970's. Greig also had a cup of coffee with the NHL's California Golden Seals. Raiders head coach Pat Kelly was the head man for the NHL's Colorado Rockies in 1977 and 1978.
After the 1980-81 season, the EHL re-organized itself as the Atlantic Coast Hockey League. The ACHL endured a brutal debut season. Two of the league's seven franchises folded during the first month of the season. A third, the Cape Cod Buccaneers owned by World Wrestling Foundation mogul Vince McMahon, withdrew after 39 games.  The four remaining clubs voted to cut short the 1981-82 regular season and move directly to the playoffs. Salem had the best record in the league at the time at 32-15. The Raiders lost to the Mohawk Valley Stars of Utica, New York in the championship series.
The team returned to the ACHL and the Salem Civic Center in the fall of 1982 with a new name (Virginia Raiders), new owner and new colors. The franchise eventually folded in August 1983.
In Memoriam
Bruce Greig (Raiders '80-'82) died in a car accident in Nanton, Alberta on May 24, 2008 at age 55.
Robert Payne of Utica, New York, who owned the Raiders from their arrival in 1980 until February 1982, passed away on October 25, 2012 at the age of 98.
Links
Eastern Hockey League Programs
##