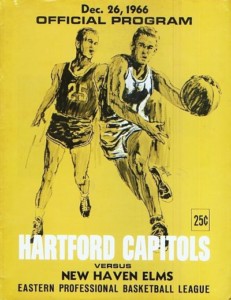 Eastern Professional Basketball League (1966-1970)
Eastern Basketball Association (1970-1974)
Born: 1966
Folded: 1974
Arenas: 
Hartford Public High School
University of Hartford
Bloomfield High School
Team Colors:
Owners: 
EBA Champions: 1974
The Hartford Capitols were a weekends-only minor league basketball squad that toiled for eight seasons from the mid-1960's to the mid-1970's at a variety of high school and university gymnasiums.
The Capitols featured some terrific players, despite their ramshackle facilities.  Former Duke star Art Heyman, the #1 overall pick in the 1963 NBA draft, played for Hartford during the 1966-67 season. Heyman was the MVP of the 1963 NCAA tournament. Four years later, Heyman earned the princely sum of $60 per game to suit up for the Capitols.
Two-sport prodigy Gene Conley, who won a World Series with the Milwaukee Braves and three NBA titles with the Boston Celtics, played for the Caps and also briefly coached the team during the 1969-70 season. Future Pro Basketball Hall-of-Famer K.C. Jones even played a handful of games for the Caps in the mid-'60's.
The Capitols' finest seasons were their final two. The Caps earned back-to-back trips to the Eastern Basketball Association championships series in 1973 and 1974. They lost to the Wilkes-Barre Barons in '73, but rebounded the following spring to defeat the Allentown Jets for the 1974 EBA crown. The club folded quietly a short time thereafter.
Hartford Capitols Memorabilia
In Memoriam
Former Capitols guard/small forward Art Heyman passed away on August 27, 2012 at age 71. New York Times obituary.
Capitols founder/owner Mark Yellin died on January 2, 2017 at age 83. Hartford Courant obituary.
Links
Eastern Basketball Association Programs
##