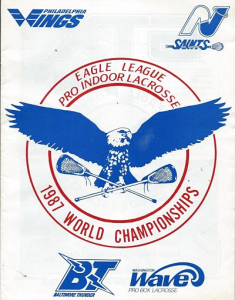 Baltimore Thunder vs. Washington Wave
Eagle Pro Box Lacrosse League Championship Game
March 21, 1987
The Capital Centre
Indoor Lacrosse Programs 1987-Present
12 pages
This was a great find from a collector in Maryland.  A championship game program from the debut season of the Eagle Pro Box Lacrosse League back in 1987.
The Eagle league was the second attempt to start a professional box lacrosse circuit in the United States.  The National Lacrosse League (1974-1975) played during the summers in sweat box hockey arenas for two summers in the mid-1970's before folding.  Eagle league founders Russ Cline and Chris Fritz were promoters by trade: hard rock concerts, monster truck shows and tractor pulls.  Big arena events with blue collar appeal.  Box lacrosse was no different.  As Sports Illustrated's Franz Lidz put it in a feature on this 1987 championship game, Cline and Fritz marketed box lacrosse to "fans of ice hockey, pro wrestling and Rambo."
All four of the league's franchises advanced to the playoff series after the Eagle League's modest six-game inaugural season.  According to Lidz, Cline & Fritz were so sure that either the regular season champion New Jersey Saints (4-2) or the Philadelphia Wings (3-3) would advance to the championship, that they booked the Philadelphia Spectrum to host the title game in mid-March.  When the league's two weakest teams, the Baltimore Thunder (2-4) and Washington Wave (2-4) both advanced to the final by upset, the promoters pushed back the championship by a week and hurried to book the Capital Centre in Landover, Maryland where they Wave played their home games.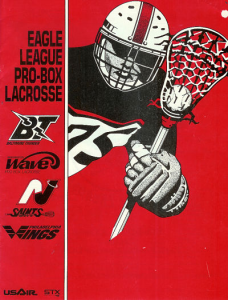 An announced crowd of 7,019 turned out for the title match on Saturday, March 21, 1987.  The Capital Centre didn't own its own lacrosse carpet, so the game was played on a second-hand indoor soccer carpet purchased from the Pittsburgh Civic Arena.  The carpet still bore the logo of the defunct Pittsburgh Spirit of the Major Indoor Soccer League.  Baltimore prevailed 11-10 in a close match, packed with crowd pleasing hard hits.
The Eagle League still exists today, after a couple of name changes.  The league was known as the Major Indoor Lacrosse League from 1988 until 1997.  The league adopted its current brand name – the National Lacrosse League – in 1998.  In the early years, Cline & Fritz owned the league and all of its franchises.  In the 1990's, the league moved to a franchise model.  Expansion fees rose as high as $3.0 million per franchise in 2006-2008, although the league's speculative bubble in franchises fees has since deflated.
The Washington Wave lasted for three season, folding at the end of 1989.  The Thunder hung onto until 1999.
##