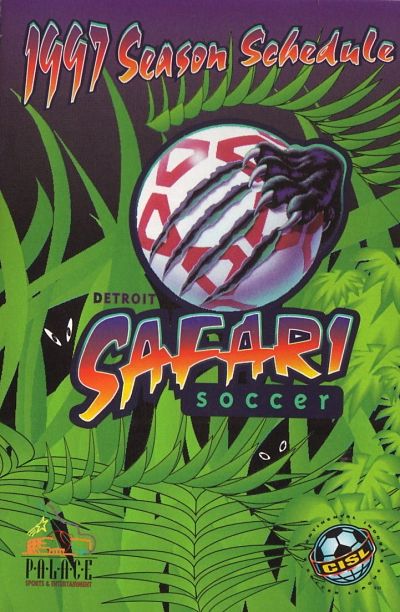 Continental Indoor Soccer League (1997)
Born: May 1997 – Re-branded from Detroit Neon
Folded: December 23, 1997
Arena: The Palace of Auburn Hills
Team Colors:
Owner: Palace Sports & Entertainment (William Davidson)
CISL Championships: None
There have been countless pro sports teams named for race cars and race car drivers  over the years. But the Detroit Safari stand alone as the only team named for a minivan…
Palace Sports & Entertainment, owners of the NBA's Detroit Pistons, also owned a stabled of second tier pro sports ventures that operated out of the Palace during the 1990's and 2000's. Owner William Davidson bankrolled minor league hockey (the Vipers), Arena Football (the Fury), women's basketball (the Shock), and indoor soccer's Detroit Neon/Safari.
The Detroit Neon began play in 1994 as an expansion franchise in the Continental Indoor Soccer League. The CISL played a 28-game summer schedule, mostly in NBA and NHL arenas. Like Davidson, many of the league's owners were NBA and NHL franchise owners looking to fill summer dates in their buildings. The Neon derived their name from a corporate sponsorship deal with Chrysler for their Neon sub-compact car. When that deal elapsed after three seasons, Palace Sports & Entertainment struck a new naming rights deal with General Motors and their Safari mini-van line just prior to the 1997 CISL campaign.
The Safari were a truly terrible team. The club posted a 3-25 record in 1997, tied with the 1994 Carolina Vipers for the worst mark in CISL history. The club quietly vanished from the Detroit sporting scene when the CISL went out of business on December 23, 1997.
Safari Video
Safari host the Indiana Twisters at the Palace. September 6, 1997.
Links
Continental Indoor Soccer League Media Guides
Continental Indoor Soccer League Programs
###