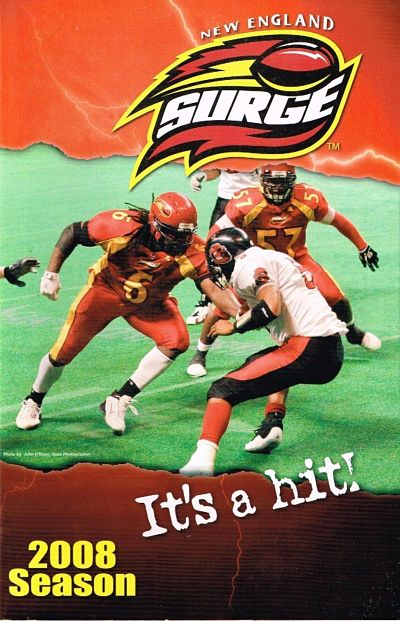 Continental Indoor Football League (2007-2008)
Born: November 21, 2006 – CIFL expansion franchise
Folded: Spring 2009
Arena: The DCU Center
Team Colors:
Owner: Roy Lucas, Jr., et al.
The New England Surge was a quixotic indoor football venture in the ramshackle Continental Indoor Football League.  Team founder (and General Manager and Head Coach) Roy Lucas Jr. was a strength and conditioning trainer without any personal wealth or pro sports experience who started the franchise with the assistance of a Football For Dummies paperback.
Lucas set up shop in Worcester, Massachusetts at the DCU Center, formerly known as the Worcester Centrum.  The building was something of a graveyard for minor league sports going back to the mid 1980's, with series of failed promotions in pro basketball, box lacrosse and ice hockey.  The casualties also included a previous indoor football attempt, the Massachusetts Marauders of the Arena Football League, in 1994.
The Surge's home debut on April 14th, 2007 drew a respectable announced crowd of 4,724 (video below).  Nevertheless, the team's expenses vastly outpaced weak revenues and by the end of the Surge's second season in 2008, the club was nearly $600,000 in the red, according to The Worcester Telegram & Gazette, and up to its eyeballs in liens and small claims cases.  The club folded before a third season could be launched, amidst squabbling between founder Roy Lucas and his minority shareholders, none of whom had any real money.
Notable Surge players included former New England Patriots running back Harold Shaw and Tyler Grogan, son of long-time Pats QB Steve Grogan.
The Surge's mascot was a leopard named Surgeo, which was somewhat clever.
==YouTube==
Highlights of the Surge's first home game, a 61-6 victory over the New York/New Jersey Revolution at the DCU Center on April 14, 2007.
==Links==
"The Decline and Fall of the New England Surge", Shaun Sutner and Dave Nordman, The Worcester Telegram & Gazette, April 12, 2009
##