Canadian Football League
Born: May 14, 1982 – CFL expansion franchise
Re-Branded: 1986 (Montreal Alouettes)
Stadium: Olympic Stadium
Team Colors:
Owner: Charles Bronfman, et al.
Grey Cup Championships: None
In the spring of 1982, the Canadian Football League's venerable Montreal Alouettes franchise collapsed under a mountain of debt. Seeking a clean slate for new ownership, league officials folded the Alouettes on May 13, 1982 and awarded a new Montreal expansion club to Seagram's liquor baron and Montreal Expos founder Charles Bronfman. The Concordes had less than a month to get organized before the first CFL pre-season games on June 10th.
"For all practical purposes, we really didn't get into business until the season had already started," head coach Joe Galat told the CBC in September 1982. The CFL assigned the rights to the former Alouettes roster and coaching staff to the Concordes, but that wasn't a great help. The Alouettes were a league worst 3-13 in 1981. Prior owner Nelson Skalbania ran the Als into bankruptcy, in part through a spending spree on a quintet of big-name American players plucked away from the NFL. Only two of these players – defensive end Keith Gary and running back David Overstreet – returned to play for the Concordes in 1982.
The Concordes were the worst team in professional football in 1982. They lost their season opener 36-0 to the Winnipeg Blue Bombers on July 16th, 1982. Only 14,700 fans showed up at 66,000-seat Olympic Stadium. The team tried to hand the starting quarterback reigns to rookie Luc Tousignant. A native of Trois-Rivieres, Tousignant was chosen by the Buffalo Bills in the 8th round of the 1982 NFL draft but chosen to sign with the Concordes in his native Quebec instead. He became the first French-Canadian to start at quarterback in the CFL. Tousignant floundered, throwing 11 interceptions against 4 touchdowns in sporadic action. Primary signal calling duties fell to Johnny Evans, the former punter of the NFL's Cleveland Browns.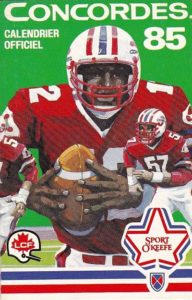 The Concordes improved modestly over the next several seasons. Despite another losing record in 1983 (5-10-1), attendance surged over 50% to a Concordes-era peak of 23,637 per game. Prior to the 1984 season, the Concordes scored a coup by signing University of Nebraska quarterback Turner Gill to a four-year $1.2 million contract. Gill was a 1983 Heisman Trophy finalist (he lost to teammate Mike Rozier) and a dual threat both passing and scrambling. The Concordes slow progress continued with Gill at the controls: a first-ever playoff appearance in 1984 and a .500 record and first playoff victory in 1985. He passed for 4,928 yards and ran for 826 yards while throwing 23 touchdowns in his first two pro seasons. But he was also knocked out of four games with concussions, including the regular season finale in 1985. Gill retired from football in May of 1986 at just 23 years old.
Charles Bronfman lost millions on the Concordes during their first four seasons of operation. In an effort to revitalize local interest in the team, the club dropped the Concordes moniker and revived the old Alouettes name and logo during the winter of 1986. The move failed to improve the team's fortunes. The Concordes/Alouettes franchise folded on June 24, 1987, one day before the start of the 1987 CFL season.
The CFL returned to Montreal in 1996 with yet another re-incarnation of the Alouettes. This version of the Alouettes continues to play today.
Montreal Concordes Shop


Distilled: A Memoir of Family, Seagram, Baseball and Philanthropy by former Concordes owner Charles Bronfman
Montreal Concordes Memorabilia
Concordes Video
The last Concordes game. 50-26 playoff loss at Hamilton in the 1985 CFL Eastern Division final.
In Memoriam
Running back David Overstreet (Concordes '83) died in a single-car accident on June 24, 1984 at age 25.
Running back Denny Ferdinand (Concordes '82-'84) died of a heart attack at age 40 on April 2, 2002. Globe & Mail obituary.
Linebacker Pete Martell (Concordes '82-'83) passed away on July 31, 2016 after a battle with Huntington's Disease. CFL Alumni Association obituary.
Defensive tackle Paul Martin (Concordes '84-'85), who became a doctor of radiology after his football career, was killed by his son in a murder-suicide on October 28, 2017. Charlotte Observer report.
Links
Canadian Football League Media Guides
Canadian Football League Programs
###