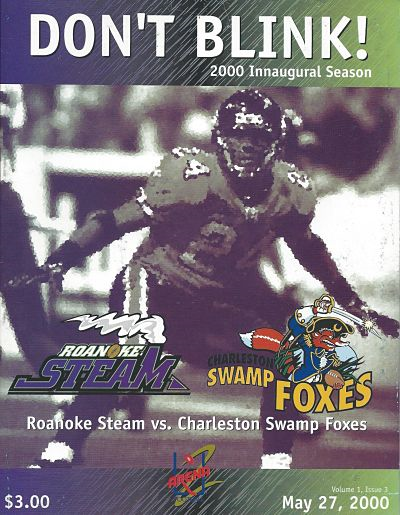 Arena Football 2 (2000-2002)
Born: 1999 – AF2 founding franchise.
Died: 2002 – The Steam cease operations.
Arena: Roanoke Civic Center (8,674)
Team Colors:
Owners:
The Roanoke Steam were a minor league Arena Football team that competed in Arena Football 2 for three seasons in the early 2000's.  The team shared ownership and resources with the Roanoke Express hockey team of the East Coast Hockey League.
Indoor football never caught on in Roanoke.  The Steam finished last in the league in attendance in 2000 (3,374 per game) and again in 2001 (2,575 avg.).  Midway through the Steam's third and final season in 2002, the ownership group declared Chapter 7 bankruptcy in May 2002.  The Steam muddled through the rest of the season under league stewardship and then was quietly euthanized in July 2002.
The team was never a factor on the field either, failing to make the AF2 playoffs in all three seasons of operation.
==Roanoke Steam Programs on Fun While It Lasted==
==Links==
###