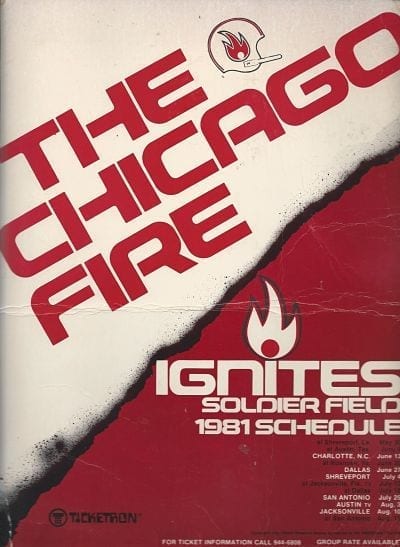 American Football Association (1981)
Born: 1981 – AFA expansion franchise.
Folded: Spring 1982
Stadium: Soldier Field
Team Colors: 
Owners: Bill Feda and Howard Miller
AFA Championships: None
The 1981 Chicago Fire were a pro football outfit that competed in the summer-season American Football Association.  The club was a brand re-boot of the old Chicago Fire of the World Football League, resuscitating that team's name, logo and helmet design (visible in the schedule poster top right).
Unlike the WFL, which made a brief go of challenging the NFL for elite talent in 1974 and 1975, the American Football Association was a decidedly minor league operation.  Club officials spotted an opportunity with the 1981 Major League Baseball strike, which wiped the Cubs and the White Sox off the map from early June to mid-August. WGN-TV, scrambling for summer sports programming during the strike, broadcast a Fire game from Soldier Field on June 27, 1981.  But lukewarm ratings led the pioneering cable superstation to cancel Fire broadcasts scheduled for later in the season.
The Fire won the AFA's Western Division with an 8-4 record in 1981 and advanced to the league title game.  The Fire traveled to Charleston, West Virginia on August 30th, 1981 and lost to the defending league champion West Virginia Rockets 29-21.
As late as May 1982 Fire owners Bill Feda and Howard Miller were still trying to scrape together funds to play a second season in the AFA. But the team was in financial straits and the formation of the big-budget United States Football League on May 11th, 1982 drove a final nail into the coffin.  The Fire folded quietly shortly thereafter. The USFL's Chicago Blitz would begin play at Soldier Field in the spring of 1983.  Ex-Fire General Manager Ron Potocnik would become (briefly) GM of the Blitz in 1984.
Downloads
1981 Chicago Fire Schedule & Results
Links
American Football Association Programs
##