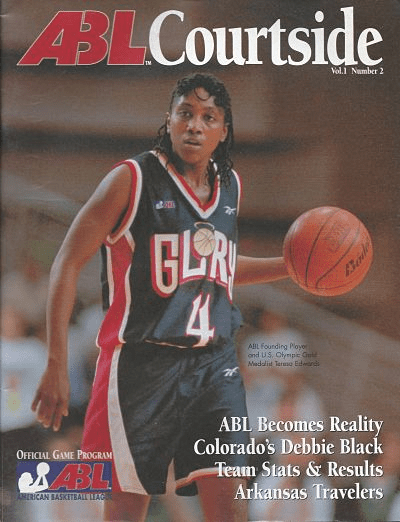 American Basketball League (1996-1998)
Born: 1995 – ABL founding franchise.
Folded: 1998 – The Glory ceases operations.
Arenas:
Team Colors: Blue, Red & Nugget Gold
Owner: American Basketball League
The Atlanta Glory was a short-lived women's basketball team that competed in the American Basketball League for two seasons in the mid-1990's.  The team split its home games between two downtown Atlanta college campuses, playing most dates at the brand new 5,700-seat arena at Morehouse College, built for the 1996 Olympic Games.
Teresa Edwards, a Cairo, Georgia native, former UGA Bulldog, and four-time U.S. Olympic basketball medalist, was the Glory's featured attraction.  But despite Edwards' presence, the Glory struggled to find a following in Atlanta.  During the ABL's 1996-97 inaugural season, the Glory's average attendance of 2,780 fans was 2nd lowest in the league.  The team also missed the playoffs with an 18-22 record.
Edwards took on double duty as the Glory's player-coach for the second ABL season in the winter of 1997-98.  The team went backwards to 15-29, missing the playoffs again.  Announced attendance picked up 40% to 3,898 per game, but that wasn't enough to save the Glory from the axe.  All teams in the single-entity ABL were centrally owned by the league itself.  With the league bleeding cash at an alarming pace, the ABL contracted the Atlanta franchise shortly after the 1997-98 season concluded.
The ABL launched a 3rd season in November 1998, but ran out of money one month later and folded on December 22, 1998.
Women's pro hoops returned to Atlanta in 2008 with the formation of the Atlanta Dream of the WNBA.
Links
American Basketball League Media Guides
American Basketball League Programs
###