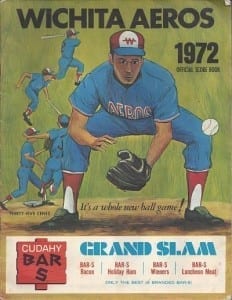 American Association (1970-1974)
Founded: 1970 – American Association expansion franchise
Moved: September 1984 (Buffalo Bisons)
Stadium: Lawrence-Dumont Stadium
Team Colors:
Owner: Milton Glickman
American Association Championships: None
The Aeros were Wichita, Kansas' Class AAA baseball club from 1970 through 1984.  For majority of their run, the Aeros were the top farm club of the Chicago Cubs (1972-1980).
Future Major League stars Buddy Bell, Eric Davis, John Franco, Bruce Sutter and Lee Smith all spent time with the Aeros on their way up to the bigs.
After 15 seasons, long-time owner Milton Glickman sold the Aeros for a reported $1.0 million to Bob Rich in September 1984. Rich moved the team to Buffalo, New York where it became the Buffalo Bisons.
After the Aeros left town, Wichita went without minor league baseball for two summers. Pro ball returned to Lawrence-Dumont Stadium in 1987 with the formation of the Class AA Wichita Wranglers of the Texas League.
Wichita Aeros Programs
Links
American Association Media Guides
##