American Association (2010-2012)
Born: February 17, 2010 – Re-branded from Sioux Falls Canaries
Re-Branded: March 26, 2013 (Sioux Falls Canaries)
Stadium: Sioux Falls Stadium ("The Birdcage")
Major League Affiliation: Independent
Owner: Bill Sexton, Gary Weckwerth, Don Dunham Jr., Chuck Hey & Brian Schoenborn
American Association Championships: None
Sioux Falls, South Dakota has been one of the most stable outposts of the independent baseball movement. The Sioux Falls Canaries were one of the founding franchises in the Northern League in 1993 and will embark on their 26th season in the spring of 2018.
The Canaries did experience a disruption in the force from 2010 through 2012 when new owners re-branded the ball club with grim results. The transition started in December 2009 when the owners of Sioux Falls' popular amateur hockey team, the Sioux Falls Stampede, purchased the Canaries from long-time owners Terry Prendergast and Mike Veeck. Bill Sexton, the new ownership group's main financier, was a part-owner of the NBA's Minnesota Timberwolves. New Managing Partner Gary Weckwerth had a history with the Canaries. He served as the Canaries' first General Manager from 1993 to 1995.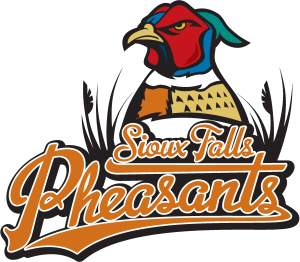 The new owners changed the ball club's identity in February 2010. The Fighting Pheasants were "a lot tougher and meaner bird", noted Weckwerth, and better represented South Dakota's hunting heritage. The change also name-checked South Dakota's old Aberdeen Pheasants minor league club (1946-1971). More changes were afoot. The team parted ways with the Canaries' energetic long-time President John Kuhn and merged the team's front office operations with the Stampede USHL hockey team.
Local fans were less than enthusiastic about the changes. On the field, the Pheasants were phantastic fantastic. Sioux Falls had the best record in the American Association at 63-33 under manager Steve Shirley. They lost the league championship series to the Shreveport-Bossier Captains. But box office at the Birdcage nosedived 35% from 2009. The team's gate of 86,518 was off nearly 50,000 fans from the Canaries' numbers the prior summer.
By June 2011, one month into the Fighting Pheasants' second season, Weckwerth was sounding alarm bells in the press. Ticket sales dipped another 12% to 76,549.
Sioux Falls Sports, LLC unloaded the Pheasants on the eve of the 2012 American Association season. The new ownership group, fronted by long-time sports exec Tom Garrity, took over in May 2012 just two weeks before opening day. The team played out a third and final season under the Pheasants name. Fortunate weather helped attendance surge back over the 130,000 mark – in line with Canaries numbers in the years before the re-branding.
Garrity's group changed the ball club's name back to Canaries in March 2013.
Links
##