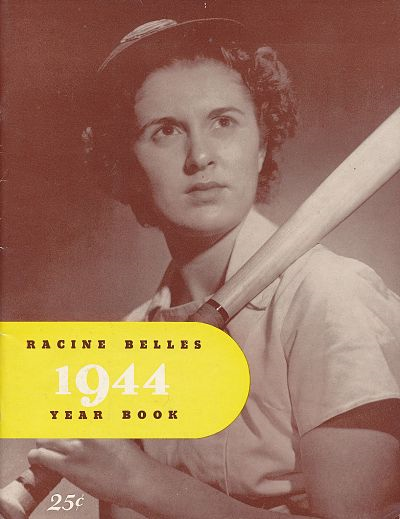 All-American Girls Professional Baseball League (1943-1950)
Born: 1943 – AAGPBL founding franchise
Folded: September 30, 1950
Stadium: Horlick Field
Team Colors:
Owners:
The Racine (WI) Belles were charter members of the historic All-American Girls Professional Baseball League during the war summer of 1943.  The Midwest-based AAGPBL was founded by Chicago Cubs owner Philip K. Wrigley when it appeared that the war and the military draft might imperil the continued operation of Major League Baseball.  The women's league was originally conceived as a softball league in 1943, but evolved into a baseball competition through a series of gradual rules changes throughout the 1940's.  The league used underhand pitching, for example, for its first few seasons.  Wrigley gave up the league after its first season when it became clear that Major League Baseball would survive the war.  But his gum advertising guru Arthur Meyerhoff took over management of the AAGPBL and kept it operating into the post-war era.
The AAGPBL found an audience in places like Racine – where Belles attendance would peak at a very respectable 102,413 fans in 1946 – and continued to operate until 1954.  The Belles won the first championship of the AAGPBL in 1943, defeating the Kenosha Comets.  They would win a second crown in 1946.
As late as 1947, Belles attendance topped 100,000, but interested declined rapidly in the summers that followed.  In 1949 attendance fell to 44,912 and the money-losing club was re-organized under the auspices of a non-profit organization the following winter.  Crowds continued to shrink (an estimated 30,000 admissions for the 1950 season) and Belles management announced it would withdraw from the AAGPBL in September 1950.
Rights to the Belles franchise and its players were later assigned to Battle Creek, Michigan under new management, though many of the Belles players declined to follow the club to Michigan.  The Battle Creek Belles played two further seasons, going out of business at the end of the 1952 campaign.
==Slideshow==
==Links==
All-American Girls Professional Baseball League Programs
##