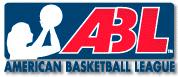 Formed: 1995
Disbanded: December 22, 1998
First Game:
Last Game:
Seasons: 2.5
Franchises: 11
States: 11
(CA, CO, CT, GA, IL, OH, OR, PA, TN, VA, WA)
The ABL was a women's professional league which launched in 1996 and competed with the NBA-backed Women's National Basketball Association (WNBA). The ABL initially attracted better talent than the WNBA, thanks to better salaries and benefits.  But the league was unable to compete for coveted sponsorships and television contracts. The ABL folded on December 22, 1998 only two months into its third season of play.
American Basketball League Franchise List
Downloads
1997-98 American Basketball League Human Resources Manual
###