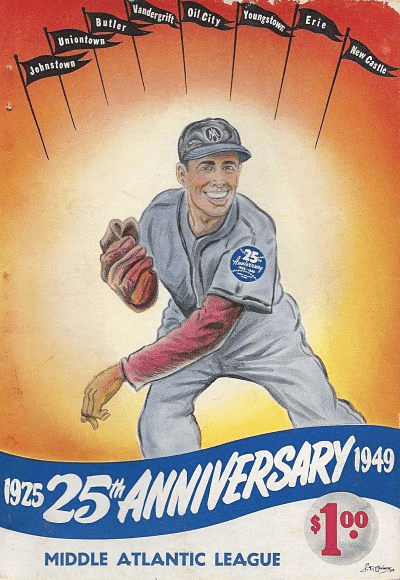 The Middle Atlantic League (or "Mid-Atlantic League") was a Class C baseball league active for 24 seasons between 1925 and 1951.
Like most of minor league baseball, the Mid-Atlantic League went dark during the peak of World War II in the summers of 1943, 1944 and 1945.  Unlike many other leagues, when the Mid-Atlantic League re-organized in 1946, it featured an almost entirely new lineup of cities from the group that last played in the summer of '42.  Only the Erie Sailors returned.
Over the years the league was active in Maryland, New York, Ohio, Pennsylvania and West Virginia.
==Franchise List==
| Franchise | Years Active | Home Page | Tagged Posts |
| --- | --- | --- | --- |
| Akron Yankees | 1935-1941 | Yankees Home | Tagged Posts |
| Altoona Engineers | 1931 | Engineers Home | Tagged Posts |
| Beaver Falls Beavers | 1931 | Beavers Home | Tagged Posts |
| Beckley Black Knights | 1931-1934 | Black Knights Home | Tagged Posts |
| Beckley Miners | 1935 | Miners Home | Tagged Posts |
| Butler Tigers | 1949-1951 | Tigers Home | Tagged Posts |
| Butler Yankees | 1946-1948 | Yankees Home | Tagged Posts |
| Canton Terriers | 1936-1942 | Terriers Home | Tagged Posts |
| Charleroi Babes | 1927-1928 | Babes Home | Tagged Posts |
| Charleroi Governors | 1929-1931 | Governors Home | Tagged Posts |
| Charleston Senators | 1931-1942 | Senators Home | Tagged Posts |
| Clarksburg Cyrians | 1925 | Cyrians Home | Tagged Posts |
| Clarksburg Generals | 1926-1932 | Generals Home | Tagged Posts |
| Clarksburg Ghosts | 1925 | Ghosts Home | Tagged Posts |
| Cumberland Colts | 1925-1932 | Colts Home | Tagged Posts |
| Dayton Ducks | 1933-1938 & 1941-1942 | Ducks Home | Tagged Posts |
| Dayton Wings | 1939-1940 | Wings Home | Tagged Posts |
| Erie Sailors | 1938-1939 & 1941-1942 & 1946-1951 | Sailors Home | Tagged Posts |
| Fairmont Black Diamonds | 1926-1931 | Black Diamonds Home | Tagged Posts |
| Fairmont Maroons | 1925 | Maroons Home | Tagged Posts |
| Hagerstown Hubs | 1931 | Hubs Home | Tagged Posts |
| Huntington Boosters | 1931-1933 | Boosters Home | Tagged Posts |
| Huntington Red Birds | 1934-1936 | Redbirds Home | Tagged Posts |
| Jeannette Jays | 1926-1931 | Jays Home | Tagged Posts |
| Johnstown Johnnies | 1925-1938 & 1946-1950 | Johnnies Home | Tagged Posts |
| Lockport Locks | 1951 | Locks Home | Tagged Posts |
| New Castle Chiefs | 1948 & 1950 | Chiefs Home | Tagged Posts |
| New Castle Indians | 1951 | Indians Home | Tagged Posts |
| New Castle Nats | 1949 | Nats Home | Tagged Posts |
| Niagara Falls Citizens | 1950-1951 | Citizens Home | Tagged Posts |
| Niagara Falls Frontiers | 1946-1947 | Frontiers Home | Tagged Posts |
| Oil City A's | 1951 | A's Home | Tagged Posts |
| Oil City Oilers | 1946 | Oilers Home | Tagged Posts |
| Oil City Refiners | 1947-1950 | Refiners Home | Tagged Posts |
| Parkersburg Parkers | 1931 | Parkers Home | Tagged Posts |
| Portsmouth Pirates | 1935-1936 | Pirates Home | Tagged Posts |
| Portsmouth Red Birds | 1937-1940 | Red Birds Home | Tagged Posts |
| Scottdale Cardinals | 1931 | Cardinals Home | Tagged Posts |
| Scottdale Scotties | 1925-1930 | Scotties Home | Tagged Posts |
| Springfield Cardinals | 1941-1942 | Cardinals Home | Tagged Posts |
| Springfield Chicks | 1933 | Chicks Home | Tagged Posts |
| Springfield Indians | 1937-1939 | Indians Home | Tagged Posts |
| Springfield Pirates | 1934 | Pirates Home | Tagged Posts |
| Uniontown Coal Barons | 1947-1949 | Coal Barons Home | Tagged Posts |
| Uniontown Cokers | 1926 | Cokers Home | Tagged Posts |
| Vandergrift Pioneers | 1947-1950 | Pioneers Home | Tagged Posts |
| Wheeling Stogies | 1925-1931 & 1933-1934 | Stogies Home | Tagged Posts |
| Youngstown A's | 1949-1951 | A's Home | Tagged Posts |
| Youngstown Browns | 1939-1941 | Browns Home | Tagged Posts |
| Youngstown Colts | 1947-1948 | Colts Home | Tagged Posts |
| Youngstown Gremlins | 1946 | Gremlins Home | Tagged Posts |
| Youngstown Tubers | 1931 | Tubers Home | Tagged Posts |
| Zanesville Cubs | 1941-1942 | Cubs Home | Tagged Posts |
| Zanesville Greys | 1933-1937 | Greys Home | Tagged Posts |