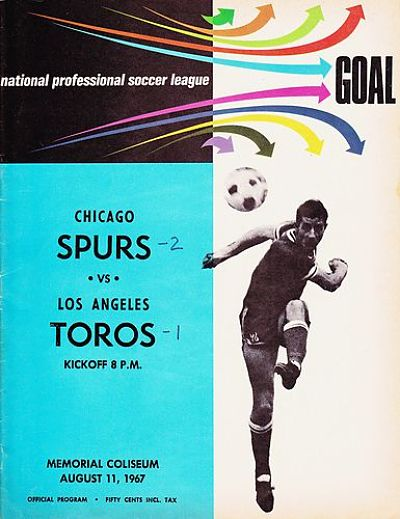 National Professional Soccer League (1967)
Born: 1967 – NPSL founding franchise
Moved: 1968 (San Diego Toros)
Stadium: Los Angeles Memorial Coliseum (93,000)
Team Colors: Red & Black
Owner: Dan Reeves & Clarence Martin
NPSL Championships: None
The Los Angeles Toros were a One-Year Wonder in the start-up National Professional Soccer League (NPSL) in 1967. The team was part of a soccer war between the NPSL and another 1967 start-up, the United Soccer Association (USA). Both leagues placed franchises into the L.A. Memorial Coliseum in the spring of 1967. The Toros, owned by L.A. Rams owner Dan Reeves, fought for fans and prime dates against the USA's Los Angeles Wolves, backed by L.A. Lakers and Kings chief Jack Kent Cooke.
The Toros finished 1967 in last place in the NPSL's Western Division with a league-worst 7-10-15 mark. Attendance of 3,595 per game was 8th best in the 10-team circuit. 20-year old Brazilian striker Eli Durante finished 4th in the NPSL in scoring with 15 goals and 5 assists.
After the 1967 season, the NPSL and the USA merged to form the North American Soccer League. Jack Kent Cooke's Wolves club kept the L.A. market and the Toros moved south to become the San Diego Toros for the 1968 NASL season. The team went out of business after one last season in San Diego in 1968.
Trivia: the General Manager of the Wolves was Yugoslav ex-patriate footballer, restaurateur and occasional actor Dan Tana, proprietor of the famous late-night Hollywood eatery Dan Tana's. Robert Urich's character Dan Tanna in the 1970's private detective drama Vega$ was named after the Toros exec.
Los Angeles Toros Slider
In Memoriam
Goalkeeper Blagoje Vidinic passed away on December 29, 2006 at the age of 72.
Links
National Professional Soccer League Media Guides
National Professional Soccer League Programs
##