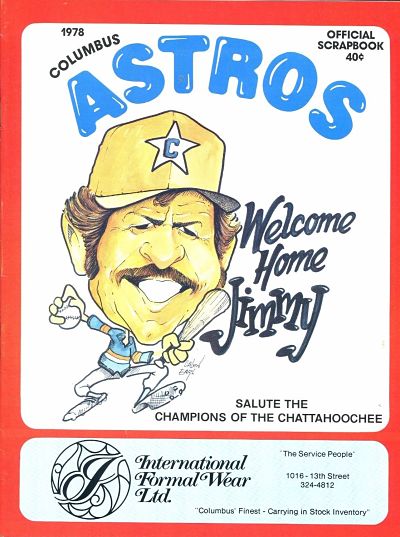 Southern League (1970)
Dixie Association (1971)
Southern League (1972-1988)
Born: 1970
Re-Branded: January 1989 (Columbus Mudcats)
Stadium: Golden Park
Major League Affiliation: Houston Astros
Owners:
Southern League Champions: 1970 & 1986
The Columbus (GA) Astros were a long-time Class AA farm club of the Houston Astros.
The Astros won the Southern League championship in their first season in the summer of 1970. The club won a second league crown in 1986, despite finishing the first half of the season in last place and cycling through three field managers.
The 1980's saw hard times for minor league baseball in Columbus. The team routinely lost money and played to tiny crowds at Golden Park. A classic mom-and-pop operation, the Astros employed only one full-time employee in its latter years. North Carolina businessman Steve Bryant purchased the franchise from local ownership in August 1988.  Five months later, Bryant re-branded the club as the Columbus Mudcats and beefed up the front office. Bryant moved the Mudcats to Zebulon, North Carolina in 1991.
Columbus Astros Memorabilia
Links
##