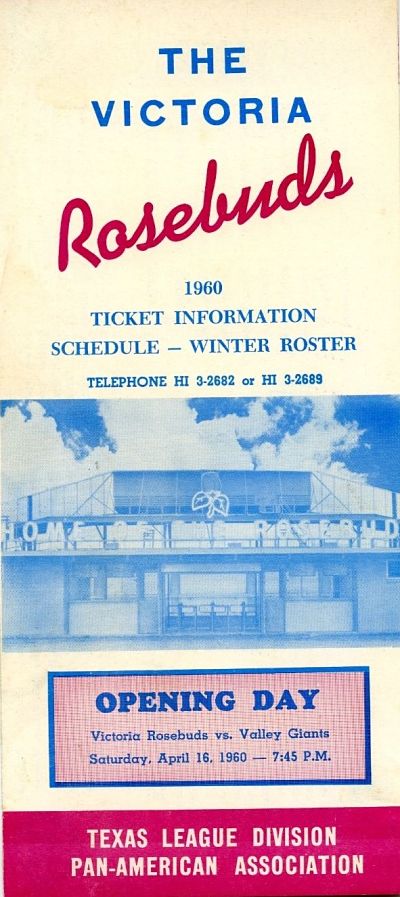 Big State League (1957)
Texas League (1958-1961)
Born: 1957 – Re-branded from Victoria Eagles
Moved: May 26, 1961 (Ardmore Rosebuds)
Stadium: Riverside Stadium
Major League Affiliations: 
1957: Brooklyn Dodgers
1958-1959: Los Angeles Dodgers
1960: Detroit Tigers
1961: Baltimore Orioles
Owner: Tom O'Connor
Big State League Champions: 1957
Texas League Championships: None
The Victoria Rosebuds of the late 1950's/early 60's were a minor league outfit in southeastern Texas. The Rosebuds moniker was used though much of the first half of the 20th century to refer to the segregated city's white amateur baseball teams. In 1957 Victoria's Brooklyn Dodgers farm club in the Class B Big State League adopted the Rosebuds name. But the Big State League was on its last legs that summer. The circuit started the season with just six clubs and finished with only four. Victoria won the league's final championship and then helped to seal the loop's doom by defecting to the Class AA Texas League after the season.
Owner Tom O'Connor purchased the Shreveport Sports of the Texas League during the winter of 1957-58.  As part of the ramp up to the higher level Texas League, Victoria's tiny Riverside Stadium got a makeover and expansion from 2,000 to 5,000 seats.  The Rosebuds also got much better prospects from their now-Los Angeles Dodgers parent club. Future Major League stars Tommy David and Frank Howard worked their way the minor league ladder in Victoria. Howard bashed 27 homers for Victoria in 1959. A lesser known future Major Leaguer, outfielder Carl Warwick, hit .331 with 35 home runs and 129 runs scored for Victoria and earned Texas League MVP honors that summer.
The Dodgers with drew their partnership after the 1959 season. The Detroit Tigers stocked Victoria's roster in 1960 and installed Johnny Pesky as field manager. The Baltimore Orioles replaced the Tigers in 1961, but the Rosebuds spent less than two months in Victoria that summer.  On May 26, 1961 the team shifted in midseason to Ardmore, Oklahoma and finished out the season there as the Ardmore Rosebuds.  Weirdly, the Texas League's Rio Grande Valley Giants promptly moved to Victoria and played out the rest of the 1961 campaign at Riverside Stadium as the Victoria Giants.
After a 13 year absence, the Texas League came back to Victoria for one summer in 1974 with the Victoria Toros club. A pair of independent teams – the Victoria Cowboys (1976) and a new version of the Victoria Rosebuds (1977) – made brief cameos at Riverside Stadium in the mid-70's. The demise of the 1977-edition Rosebuds marked the end of the pro baseball era in Victoria, Texas.
Links
###