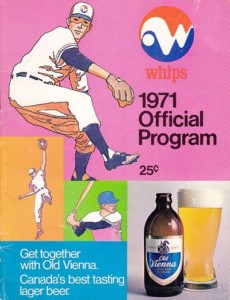 International League (1970-1971)
Born: June 11, 1970 – The Buffalo Bisons relocate to Winnipeg
Moved: November 23, 1971 (Peninsula Whips)
Stadium: Winnipeg Stadium
Major League Affiliation: Montreal Expos
Owner: Montreal Expos
International League Championships: None
The Winnipeg Whips were an ill-conceived Class AAA farm club of the Montreal Expos that lasted for just one-and-a-half summers in Manitoba.
The Whips originated as the Buffalo Bisons of the International League (IL). The Bisons traced their history back to the late 19th century and were a fixture in the IL since 1912. But by the end of the 1960's, the Bisons and their home field of War Memorial Stadium were in a state of terminal decomposition. Riots came to the city's East Side in 1967. The decrepit condition of the War Memorial caused the Bisons to play much of their home schedule at Niagara Fall's Hyde Park Stadium during the late 60's. Armed invaders stormed the War Memorial clubhouse in July 1969 causing the cancellation of a game. Bisons' local ownership grew demoralized after plans for a domed stadium and a Major League expansion bid failed in 1968. Attendance dwindled to fewer than 1,000 fans per game by 1970.
In June 1970, the Bisons' new Major League parent club, the Montreal Expos, gave up on Buffalo. 38 games into the 1970 schedule, the Expos moved their farm club to Winnipeg Stadium. Manitoba was a decidedly odd choice for an IL franchise. The rest of the league played in the Eastern and Midwestern United States. Re-named the "Whips", the Winnipeg ball club's closest opponent was the Louisville Colonels, 982 miles away in Kentucky.
The Expos hoped that the Whips would be re-assigned to the Class AAA American Association for the 1971 season. The American Association was only a marginally better geographic fit, with teams in Colorado, Indiana, Iowa, Kansas, Nebraska and Oklahoma. In any event, the re-alignment never happened and Winnipeg ended up back in the IL for the 1971 season.
The Whips finished dead last in the 8-team circuit with a 44-96 in 1971. Future Major League stars Steve Rogers and Mike Torrez featured on the Whip's pitching staff. 1971 would prove to be the Whips only full season in Winnipeg.
The Expos announced the club would move to Hampton, Virginia in November 1971.  The franchise played two more seasons in Virginia as the Peninsula Whips before folding. Winnipeg went without pro baseball for more than two decades until the formation of the independent Winnipeg Goldeyes in 1994.
Links
International League Media Guides
###