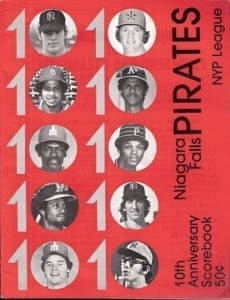 New York-Penn League (1970-1979)
Born: 1970
Died: 1979
Stadium: Sal Maglie Stadium
Major League Affiliation: Pittsburgh Pirates
Team Owners:
New York-Penn League Champions: 1972
The Niagara Falls Pirates were the short-season Class A farm club of the Pittsburgh Pirates throughout the 1970's. Future Pittsburgh regulars such as Dale Berra, Omar Moreno, Ed Ott and Rod Scurry all began their climb to the Major Leagues in Niagara Falls.
The team managed only three winning seasons out of ten. Niagara Falls' finest hour came during the summer of 1972 when the club won the New York-Penn League pennant with a 48-22 record.
The Pirates' final season in Niagara Falls was the summer of 1979. The NY-Penn League returned to Sal Maglie Stadium in 1982 with the arrival of the Niagara Falls White Sox.
Niagara Falls Pirates Memorabilia
Downloads
1973 Niagara Falls Pirates vs. Auburn Phillies Roster Insert
Links
New York-Penn League Media Guides
###