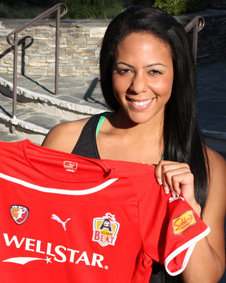 This was the last public image of Women's Professional Soccer (2009-2011).  At this time last year, WPS was in a state of massive organ failure: largely insolvent, under-staffed by those demoralized few who ignored the evacuation orders, slogging through internecine warfare with a rogue owner and forced to prove it even deserved re-sanctioning by the United States Soccer Federation.
Improbably – and perhaps irresponsibly – the league roused itself at the NSCAA convention in January 2012 to hold its fourth and final college entry draft.  Budding USWNT star Sydney Leroux (left) was the #1 overall pick of the Atlanta Beat.  Some unknown person snapped this picture of her for the Beat website, inadvertently becoming the last person to ever attempt to market WPS.  Two weeks later the league bled out and it was all over.  Leroux will never wear that Beat jersey, nor will anyone else.
2012 was a lost year for the women's game in America in terms of a pro league.  The loss of WPS was ameliorated for most fans by the USWNT's Gold Medal triumph in London.  2012 was a great year for women's soccer in America even without a pro league.  But the success of the American women in London also sparked a renewed appreciation in certain influential offices (i.e. Sunil Gulati's) of why we need a viable women's pro league.
The U.S. has now won back-to-back Olympic Golds in 2008 and 2012.  Many of the key figures in those victories – Angela Hucles, Abby Wambach and Megan Rapinoe – may never have even made the National Team without the platform of the WUSA or WPS to showcase their talents.  This isn't about a pro league sitting atop the "developmental pyramid".  Get real.  The USWNT and the Brazilian, Canadian, Swedish and Japanese National teams are the top of the Pyramid.  Those are the Major Leagues in this sport.  The purpose of a North American pro league is to be the equivalent of triple-A baseball, providing a proving grounds and a showcase to develop talent for international competition.  Rather than sit back doing nothing and charge exorbitant sanctioning dues to the brave investors willing to invest in professional women's soccer here, the USSF ought to be f*&*#ng thrilled that a bunch of rich guys want to heavily subsidize the USSF's effort to bring home World Cup and Olympic championships.
Now there's a third pro league in the works and this time – for the first time – U.S. Soccer is reportedly taking a lead role and planning to subsidize the participation of USWNT players, much the way that NHL and Major League Baseball clubs pay the salaries of their prospects in hockey and baseball's developmental leagues.  As the peerless women's soccer journalist Jeff Kassouf reported this week, progress has been agonizingly slow and a series of "big announcements next week" have come and gone with silence.  Women's soccer die hards are concerned – as they should be – that Thanksgiving is nearly upon us and we don't yet have a league in place.  The time to sell tickets, close sponsorship deals and forge community inroads is ebbing away.
After reading Jeff's article (linked above), I came up with five plausible theories about the persistent delays.  Perhaps I should clarify.  Five plausible but totally speculative and uninformed theories about the lack of action.  Then I reached out to a few veteran players and other sources close to the league to test my theories.  Each of them asked not to be identified by name, but provided helpful insights.   But before I share their comments, here were my initial scenarios on the lack of progress:
There is a split between league owners who want to push forward for 2013 and a group that wants to hold off until 2014. (This is what derailed the planned 2008 launch of WPS).
The key questions of USWNT player participation are unresolved: How much will they be paid? Will players have a voice in choosing the cities they play in, as they did in WUSA and WPS?  Without USWNT commitment prospective owners might question why they should commit to the expense of an air travel league without marketable talent.
The league cannot be announced yet because of legal wrangling with the USL (W-League) or the WPSL who are upset over losing franchises to the new league.
The "herding cats" theory.  The investors of the new league are not rich enough to give this substantial attention.  They all have core businesses that require most of their day-to-day attention.  Therefore, getting them together and on the same page for any type of coordinated announcements or commitments is extremely difficult
"Dan Borislow".  (I don't even know that that means, but I guarantee someone out there assumes this is a sticking point.)
So…I have to say that after talking to several reliable contacts, I came away rather encouraged by their responses, which were pretty consistent:
Everyone is committed to a 2013 launch.  There could be as few as eight  but as many as twelve teams.  Eight seems most likely – more on why in a second.
The USWNT players – or at least a critical mass of them – are committed, which is crucially important to the league's relevance.  It appears that the mechanism for allocation is not yet in place.
Early on it looked like the USL might manage the league and/or take an equity position in ownership.  This didn't pan out and now U.S. Soccer has become the dominant player/de facto Commissioner's office.  USL will not be involved, but there seem to be no over-hanging legal issues holding things up with migrating franchises.
The "herding cats" theory is the one that seems to hold some water.  U.S. Soccer is vetting the franchise applications and set an early October deadline for interested parties to submit business plans.  Not just skeletal W-League-style plans for fielding a soccer team, but actual business plans for balancing revenues and expenses while maintaining acceptable standards of professionalism.  Although numerous parties were interested, few met the early October deadline and U.S. Soccer was compelled to extend the timeline, contributing to the delay in meaningful news.   Although there are now enough applications to select as many as a dozen franchises, one source expects Gulati will only approve eight for the first season.
Dan Borislow.  –  "Haha.  No, he's not remotely an issue at all.  He's not interested or involved," one source said.
The reported expense budgets in this league are still going to be around $500,000 – $700,000 per year.  Franchises will be responsible for the salaries of non-USWNT players, but U.S. Soccer will reportedly pay the salaries of the USWNT players.  One player said she expected "strong" participation from the Canadian National Team as well, although who would be responsible for paying the Canadians is not clear.
All in all, the behind-the-scenes news seems encouraging.  My more dysfunctional theories were consistently shot down by those in the know.  Of larger concern is the tight window that new teams will have to sell tickets and sponsorships.   Established clubs like the Chicago Red Stars and Boston Breakers should be okay regardless.  Even in a worst case scenario of dropping back to WPSL Elite, they have established fan bases that will support the teams at certain scalable levels.  More challenging will be the brand new teams that need to forge relationships and launch organizations with only four or five months of ramp up.
UPDATE!  (11.15.2012) – Charles Boehm at SoccerWire.com reports that the eight 2013 franchises will be: Boston Breakers, Chicago Red Stars, Sky Blue FC (New Jersey), and Western New York Flash – all formerly of WPS – along with new teams in Kansas City, Portland, Seattle and Washington, D.C.   It's possible but unconfirmed that the D.C. franchise will be a revival of the old Washington Freedom brand.