Hartford Knights vs. Pottstown (PA) Firebirds
ACFL Championship Game
November 29, 1969
Dillon Stadium
Attendance: 8,700 (est.)
Atlantic Coast Football League Programs
Back in the 1960's, you could head east from the Ohio Valley mining towns to the port cities of the Eastern seaboard and, if it was autumn Saturday night and you had nothing else to do, you might stumble upon a professional football game at the local Depression-era municipal stadium.  It was good football too.  The minor bus leagues of the 1960's produced some terrific players who went on to All-Pro careers in the NFL during the 1970s, players like Coy Bacon, Otis Sistrunk, Bob Tucker and Jeff Van Note.
Two of the strongest teams of the late 1960's were the Hartford Knights and the Pottstown (PA) Firebirds.  The Knights had a working agreement with the Buffalo Bills of the AFL and the Firebirds were aligned with the NFL's Philadelphia Eagles.  In 1969, the Knights were the defending champions of the Atlantic Coast Football League (1962-1973) and, at one point, had a twenty game winning streak stretching back to early in the 1968 season.  But the Firebirds drubbed the Knights 48-14 in the 1969 ACFL regular season finale at Pottstown on November 22, 1969, exactly one week before this championship game at Hartford's Dillon Stadium.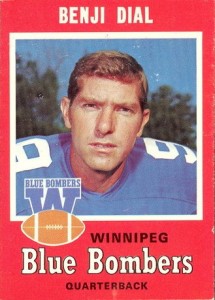 Minor league football was exactly thriving at the dawn of the 1970's, but this game was compelling enough to merit a small write up in The New York Times.   An estimated 8,700 fans turned out and, to the extent they were there to support the hometown Knights, they went home disappointed.   Running back Claude Watts scored twice for the Firebirds, once on the ground and once on a pass from Benji Dial.  Both scores came after turnovers forced by the stifling Pottstown defense which held Hartford to just 33 yards in total offense for the game.
##
The two teams would meet again the following year in the 1970 ACFL championship game with similar results.  The Firebirds shutout the Knights 31-0 to capture their second straight title.
During the early 1970's the Firebirds became a minor cult phenomenon thanks to Steve Sabol and NFL Films.  Sabol took an interest in the small town Firebirds and produced an hour-long documentary – Pro Football, Pottstown, PA – which was broadcast on national television prior to Super Bowl VI in 1972.
In addition, author Jay Acton followed the Firebirds through their 1970 championship season and published his behind-the-scenes chronicle of that season, The Forgettables, in 1973.  (Acton would later become a notable minor league baseball investor during the 1980's and 1990's).
Ironically, the Firebirds weren't around to enjoy any of this newfound fame.  Ed Gruber, the local underwear baron who owned the Firebirds, shut down the club after the 1970 championship season.  The Knights hung around a little bit longer, folding along with the rest of the Atlantic Coast Football League in 1973.
==Downloads==
1969 ACFL Championship Game sources
###