Jacksonville Firebirds vs. Orlando Americans
July 26, 1981
The Gator Bowl
Attendance:
American Football Association Programs
32 pages
This rare program hails from the American Football Association (1977-1983), a rickety minor league outfit that began play in Texas and Oklahoma in 1977.  The league expanded across the Southeast in the late 1970's and actually carved out a nice niche in the city of Jacksonville, when the Jacksonville Firebirds began play in 1979.  According to historian Bob Gill's Minor League Football, 1960-1985 encyclopedia, the Firebirds drew an astonishing 153,000 fans for 13 games at the Gator Bowl during 1979.
Most of the other teams in the AFA were considerably less popular and it was not unusual for clubs to fold up shop in midseason.  The Firebirds opponent for this July 26, 1981 game, for example, was the Orlando Americans, who played just this one season before going out of business.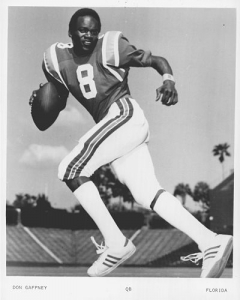 A couple quarterbacks of note in this game.  The starting signal caller for the Firebirds was former University of Florida Gators star Don Gaffney.  On October 3, 1973 Gaffney became the first black man to start a Southeastern Conference football game at quarterback, when the Gators traveled on the road to Auburn's Jordan-Hare Stadium.  Gaffney led the 2-6 Gators to a surprising upset of 19th ranked Auburn that day.
Orlando Americans quarterback Jerry Golsteyn improbably used his AFA stint to land the back-up quarterback job with the Tampa Bay Buccaneers in 1982.  He later returned to Orlando in 1985 as the back-up quarterback for the Orlando Renegades of the United States Football League (USFL).
The back cover of the program is a welcome announcement for former Washington Redskins All-Pro quarterback Billy Kilmer, who signed on as Commissioner of the AFA for the 1981 season.   He would last only one season in the role.  The AFA itself folded in 1983, under pressure for players and relevance from the bigger-budget, far more ambitious USFL.