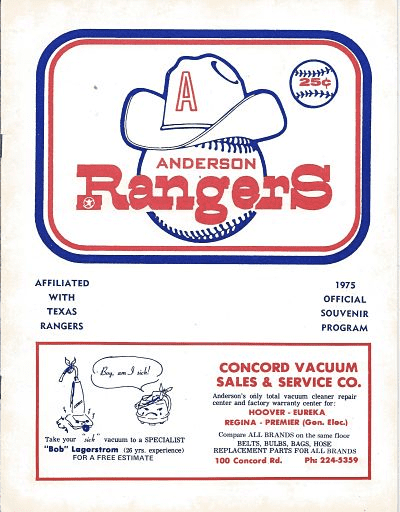 Western Carolinas League (1975)
Born: 1975 – The Gastonia Rangers relocate to Anderson, SC.
Relocated: 1976 (Asheville Tourists)
Stadium: Memorial Stadium
Team Colors:
Owner: Fred Nichols
Rare game program for the Anderson Rangers, a South Carolina farm club of the Texas Rangers that lasted for just a single season in the summer of 1975.
Anderson played in the Western Carolinas League, a struggling low-A ball loop that dwindled to just four ball clubs in the summer of 1975.   Most of the Rangers players would be filtered out of the system long before coming close to their Major League dreams, but a few players from this ballclub did make their mark in The Show.
Jeff Byrd was a wild, 18-year old pitcher for Anderson in 1975.  Texas' 2nd round draft choice in 1974, Byrd walked an eye-popping 104 batters in 141 innings in Anderson.  His Major League career was an unusual as his stats line.  At the young age of 20, Byrd started 17 games for the expansion Toronto Blue Jays in 1977, posting a 2-13 record.  He never pitched in the Majors again and was out of baseball by the age of 23.
More successful was starting pitcher Jim Clancy.  Clancy lost a team-high 13 games for Anderson as a 19-year old.  Like Byrd, he joined the Toronto Blue Jays for their expansion season in 1977.  Clancy went on to win 140 games in a 15-year Major League career, highlighted by an All-Star selection with the Blue Jays in 1982.
Anderson's pitching coach was a colorful character in Singin' Ed Nottle, a career minor league player who later became a minor league/independent baseball institution during a four-decade managerial career that, once again, fell short of the Major Leagues by the slightest twists of fate.  Nottle endeared himself to baseball fans (and bar patrons) from Tacoma to New Haven for his habit of singing Rat Pack standards and even released an album, To Baseball With Love, in 1983.  The 37-year old Nottle even activated himself for a couple of garbage innings for Anderson in 1975.  He was more than twice the age of many of the Rangers' young prospects that summer.
The city of Anderson, South Carolina had a rough stretch with minor league baseball in the early 1970's.  Four different Major League clubs sponsored farm clubs at the city's Memorial Stadium between 1970 and 1974, typically leaving after a single season.  After the Mets left town at the end of 1974, it looked like the city would be without baseball in 1975.   Then a Connecticut financial advisor named Fred Nichols purchased the Gastonia (NC) Rangers (1973-1974) in the Western Carolinas League.  The Texas Rangers were unhappy with the lighting at Gastonia's Sims Legion Park and prevailed upon Nichols to find a new home for the farm club.  Nichols moved the Rangers to Anderson.
Nichols kept the Rangers in Anderson for only one summer.  After the 1975 season, Nichols moved his Western Carolina League franchise to Asheville, North Carolina.  Still a Texas Rangers farm club, the team was renamed the Asheville Tourists.
##
Nichols lasted only two seasons as Asheville's owner, selling out in 1977.  But the Tourists still thrive in the former Western Carolinas League, now known as the South Atlantic League since 1980.  In 2012 the Tourists completed their 37th season in Asheville.
Anderson, South Carolina has been largely left behind by professional baseball.  A South Atlantic League club, the Anderson Braves, played at Memorial Stadium from 1980 to 1984.  An independent club – the Anderson Joes of the South Coast League – played a single season in 2007 before going out of business.  Other than the Joes, Anderson has been without pro baseball for more than a quarter century.
Downloads
July 1975 Anderson Rangers vs. Salem Pirates Game Notes
Links
Western Carolina League Programs
###