Western Carolinas League (1973)
Born: 1973
Affiliation Change: 1974 (Orangeburg Dodgers)
Stadium: Mirmow Field
Team Colors:
Owner: Verner Ross
A cool-looking program from the obscure Orangeburg Cardinals of the old Western Carolinas League.  The Cardinals reside in our One-Year Wonders file, as the team lasted just a single summer in 1973.
The team's name and the St. Louis Cardinals logo on the program cover would seem to identify the club as a low-level (single-A) farm club of St. Louis.  However, the typically reliable guys at baseball-reference.com identify the team as a co-op club. Rare today, co-op farm teams popped up occasionally back in the 1970's and 1980's.  Rather than have a single Major League parent club, multiple Major League clubs contributed players to the roster.  It was an arrangement of last resort and these loaner players were often held in low regard.  Co-op teams frequently finished near the bottom of the standings.  The 1973 Orangeburg Cardinals last place 50-72 record might lend some circumstantial support to baseball-reference.com's identification of the team as a co-op operation.
Following the 1973 season, the Los Angeles Dodgers took over the Western Carolinas League farm club in Orangeburg.  The Orangeburg Dodgers also lasted just one season at Orangeburg's Mirmow Field before pulling out at the end of 1974.  Pro baseball has never returned to the city.
The most notable figure involved with the team was field manager Jimmy Piersall.  Piersall was a talented outfielder in the Major Leagues from 1950-1967.  Although a two-time All-Star with the Boston Red Sox, his on-field abilities were overshadowed by his erratic behavior and public battle with mental illness.  Piersall was institutionalized in his early twenties during his time with the Boston Red Sox.  At the time, his troubles were attributed variously to a domineering father who pushed him to excel at baseball and to nervous exhaustion.  Today it is commonly understood that Piersall suffers from bi-polar disorder.  His story was turned into the autobiography Fear Strikes Out, later a movie with Anthony Perkins portraying Piersall.
Brian Merzbach over at BallparkReviews.com has some nice photos of Orangeburg's Mirmow Field.  Brian points out that the field is rather nice (by 1970's standards) and it's somewhat surprising that pro ball had such a short stay there before rising stadium standards rendered the facility obsolete in the late 1980's.
Back in the days of the Western Carolinas League (1960-1979), programs such as this represented a substantial portion of a team's annual advertising revenue.  Today, the printed game program itself has become nearly obsolete.  But back in 1973, it was a simpler time and advertisers, such as this comically plainspoken Orangeburg chiropractor, just wanted get a simple message across…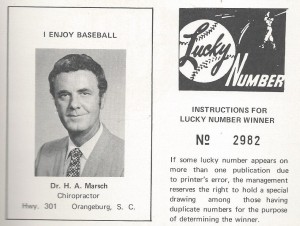 ==Links==
Western Carolinas League Programs
###