Western Carolina League (1973)
Born: 1973
Folded: 1974
Stadium: Memorial Stadium
Team Colors:
Owner:
Western Carolina League Championships: None
A rare scorebook from the 1973 Anderson Tigers, a single-A Detroit Tigers farm club from the old Western Carolinas League (1960-1979), a forerunner of today's South Atlantic League.
Anderson is a small city (pop. 26,686 in 2010) nestled in the Northwest corner of South Carolina.  In the post-WW II era, Anderson has played host to minor league baseball sporadically, first from 1946 to 1954 at Nardin Field and later from 1970 to 1975 and 1980 to 1984 at Memorial Stadium.
During the 1970 to 1975 stretch, the Anderson entry in the Western Carolinas League was kicked back and forth by five different Major League parent clubs in six years, starting with the old Washington Senators in 1970 and moving through the Giants, Tigers, Mets and Rangers.  1973 was the only summer that Anderson's team was affiliated with the Detroit Tigers.
Beginning in 1974, the Tigers built a remarkably rich farm system through the draft, developing home grown players such as Mark Fidrych, Lance Parrish, Alan Trammell, Lou Whitaker, Jack Morris, Dan Petry, Steve Kemp and Kirk Gibson.  The backbone of the 1984 World Series championship team came up through the farm system.  Had Anderson hung on as a Tigers affiliate for a few more season, many of these stars probably would have passed through during their first season or two in the minors.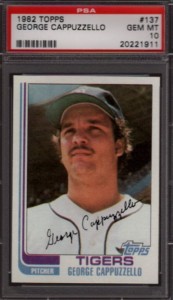 As it was, only three players on the 1973 Anderson Tigers ever saw Major League service time.  Pitcher Bob Kaiser was a 3rd round draft pick of the Cleveland Indians who never quite panned out.  He appeared in 5 games for Cleveland in 1971 and his Major League time was already behind him by the time he ended up back in A-Ball with Anderson in 1973.  Outfielder Dan Gonzalez was a Tigers 2nd rounder in 1972 and finally made it to Detroit at the end of the decade, appearing in just 9 games with big club in 1979 & 1980.
The ace of the Anderson Tigers staff was 19-year old rookie George Cappuzzello, who led the team with 9 wins and a stingy 2.85 ERA.  It took Cappuzzello eight seasons to claw his way to the Majors as a 27-year old rookie in 1981.  He saw time with Detroit in 1981 and the Houston Astros in 1982, before ending his career in the minors in 1984.
The last farm club to call Anderson home was the Anderson Braves of South Atlantic League, who left town after the 1984 season.  Anderson has been without pro baseball since, with the exception of the summer of 2007 when the Anderson Joes of the independent South Coast League came to town.  The Joes and the SCL folded after a single season of play.
Links
Western Carolinas League Programs
###