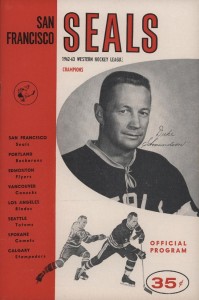 San Francisco Seals vs. Los Angeles Blades
November 21, 1963
The Cow Palace
Western Hockey League Programs
46 pages
This is a really sharp program from the old San Francisco Seals of the Western Hockey League, who played in The Cow Palace from 1961 to 1967.  The hockey club adopted the name of San Francisco's long-time minor league baseball team, also known as the San Francisco Seals, who played in the Pacific Coast League from 1903 to 1957.  The baseball Seals were forced out of town when Major League Baseball's New York Giants moved west in 1958.  A similar fate awaited the hockey Seals.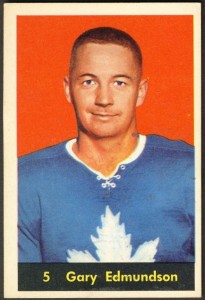 Cover boy Garry "Duke" Edmundson had an unusual career.  He debuted in the NHL with the Montreal Canadiens at the young age of 19, playing a single regular season tilt plus two playoff games during the 1951-52 season.  But he spent the rest of the decade kicking around in the minors and didn't return to the NHL until the age of 27.  After forty games with the Toronto Maple Leafs in the winter of 1959-60, he more or less squandered the second chance by showing up at training camp 40 pounds overweight in 1960, according to the Hockey Hall of Fame.  He played out his final pro seasons back in the minors with the Seals.
This particular game was the back end of a home-and-home set with the Los Angeles Blades.  The Blades beat the Seals 4-0 the previous night before 8,654 at the Los Angeles Sports Arena before the action shifted north to San Francisco.  This game was a higher scoring affair, with the Blades knocking off the Seals 7-6 at the Cow Palace.  President Kennedy was assassinated in Dallas the next day and the Western League joined with most (but not all) professional leagues and cancelled games for weekend of 11/24-11/25  as the nation mourned.
The Seals play in San Francisco until 1967 when the National Hockey League expanded to California.  The arrival of the NHL in Oakland and Los Angeles spelled the end of both the Seals  and the Blades in the Western League.  The Oakland NHL expansion franchise carried on the Seals nickname, first as the California Seals and later as the Oakland Seals and California Golden Seals.  The NHL left the Cow Palace behind and played across the Bay at the Oakland-Alameda County Coliseum.