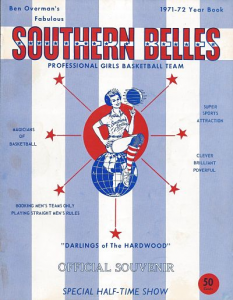 1971-72 Southern Belles Yearbook
12 pages
I'm wondering if anybody out there can provide some more information on this barnstorming women's basketball/comedy team of the late 1960's and early 1970's.
There's not a whole lot of info out on the interwebs about the Southern Belles, but here is what I can piece together from this yearbook and a few small town Google News archive notices from the late 1960's:
The Southern Belles were based out of Caraway, Arkansas and seemed to be an offshoot of the better known All-American Redheads barnstorming team.  The Redheads toured the country with a basketball & comedy act from 1936 to 1986.  Originally formed to promote a chain of hair salons in Missouri and Arkansas, every member of the Redheads was required to have red hair (whether natural or dyed) and the women played in full make-up, taking on men's teams almost exclusively. Southern Belles coach/owner/booking agent Ben Overman coached the Redheads during the early 1970's and his wife Pat Overman was a top performer for both the Belles and the Redheads.
Like the Redheads, the Belles played upwards of 200 exhibitions a year, primarily against amateur men's teams sponsored by Lions Clubs, factories and unions.  The Belles toured the country for seven months each fall and winter in  a 15-passenger stretch station wagon.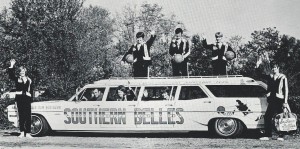 The editors of the Belles yearbook were quite fond of capitalization: "Darlings of the Hardwood", "Queens of Big Time Basketball", "America's Greatest Professional Girls Basketball Team", and "America's Female Basketball Wizards".  Like the Redheads, the Belles dressed in red, white and blue and offered a half-time show of clowning, juggling and trick shots while their male opposition rested.
By December 1972, Ben Overman was coaching the All-American Redheads and I can't find any further mention of the Belles after 1972.  I suspect the Belles folded around this time, but would love to hear from anyone who can flesh out the story of this barnstorming women's team.