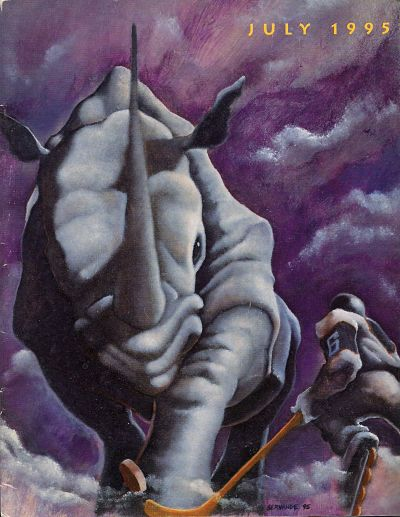 San Jose Rhinos vs. Vancouver Voodoo
July 21, 1995
San Jose Arena
Attendance:
Roller Hockey International Programs
58 pages
An attractive program from an obscure league.  This is from the San Jose Rhinos (1994-1997, 1999) of Roller Hockey International, a mid-1990's effort to capitalize on the in-line skating craze in the United States.  While the games drew well in a few cities (the Anaheim Bullfrogs sometimes had crowds in excess of 10,000), RHI's lack of an organic fan base and the tremendous expense of travelling by air and playing in major league arenas doomed the league after six seasons.
This program is from the third season of RHI in the summer of 1995.  The Rhinos won the Murphy Cup championship this season.  The league's trophy was named after Dennis Murphy, one of the league's founders and a serial sports promoter who also helped to launch the American Basketball Association, World Hockey Association and World Team Tennis in the late 1960's and early 1970's.
The compact RHI season played out over three months from June to August.  The Rhinos commissioned an illustration class in the art department at San Jose State University to design the cover art for 1995.  They chose three winning designs and created a different program cover for each month of the season.  This program is the July 1995 edition.
Rhinos Head Coach Roy Sommer coached the ice hockey Richmond (VA) Renegades of the East Coast Hockey League during the winter.  Most of the Rhinos players on this 1995 league championship team were vacationing Renegades players who followed Sommer to California to earn a summer time paycheck.
==Links==
###